The basis for a perfect fit.
Knowledge about peoples' body size and body shape is required for an optimal fit. Hohenstein has been carrying out series measurements and anthropometric studies on the recording of body measurements for almost 60 years - previously with a measuring tape, but since 1999 using state-of-the-art 3D scanner technology. With the use of 3D body scanner technology, the real body shapes of people can be visualised. With this, reliable size tables can be developed for different target groups such as women and men with large sizes.
However, more than just the body measurements are decisive for a good fit and perfect pattern: When it comes to clothing production, different body shapes must always be taken into account. We support you with the 3D visualisation of your customer groups. As a service and development partner for industry and retail, we carry out customised projects tailored to your specific needs and requirements.
With Hohenstein, you benefit from our 3D competence paired with our many years of expertise in fit and pattern. As such, you will be well advised throughout the entire development and production chain. We not only record the body data in 3D, we also help you to convert the obtained data specifically into the clothing product - for a perfect fit and consistent sizing.
Your benefits at a glance
Size advice
Size tables for standard sizes and special target groups
Customised size tables matched to our customer groups and products
3D visualisation of body shapes for reliable implementation in fit and pattern
3D models as the basis for 3D construction and 3D simulation and busts: Bodies, hands, feet and heads
Customised development projects relating to 3D.
The trial fitting of clothing on subjects is still indispensable for the fitting test. Modern 3D technologies, meanwhile, also provide valuable assistance for an optimised product development process:
Based on the 3D body data, we analyse the body shapes of your customer group, advise you on the size designation and help to optimise your size tables adapted to your customer group. We also offer assistance with size determination, made-to measure clothing, online, shipping and textile rental.
We also use the 3D technology for product analysis. Thus, in addition to test fittings with human subjects, we check which forming properties shapewear has based on 3D body scans, and can thus make and present comprehensible statements on the effectiveness of shapewear.
We also use 3D technology to optimise the ergonomic comfort of workwear and sportswear. On the scan, body movement measurements are determined and the fit is analysed, taking into account the range of motion. It is now, for the first time, possible to comprehensibly portray fit in motion using 3D technology.

The next step will be scanning in motion. Hohenstein has just started a new project to this end. The fit in motion is also an important topic for the impact check of sports bras. The functionality of the sports bras is not only analysed statically, but also in motion. In addition, our experts have developed a method to determine the pressure load that a bra strap exerts on the shoulder.
With the help of our 3D simulation systems, we support you in visualising your products in 3D, too. With this, you can virtually try on your clothing products on realistic body shapes. Your benefit: an accelerated product development process and no need for prototypes.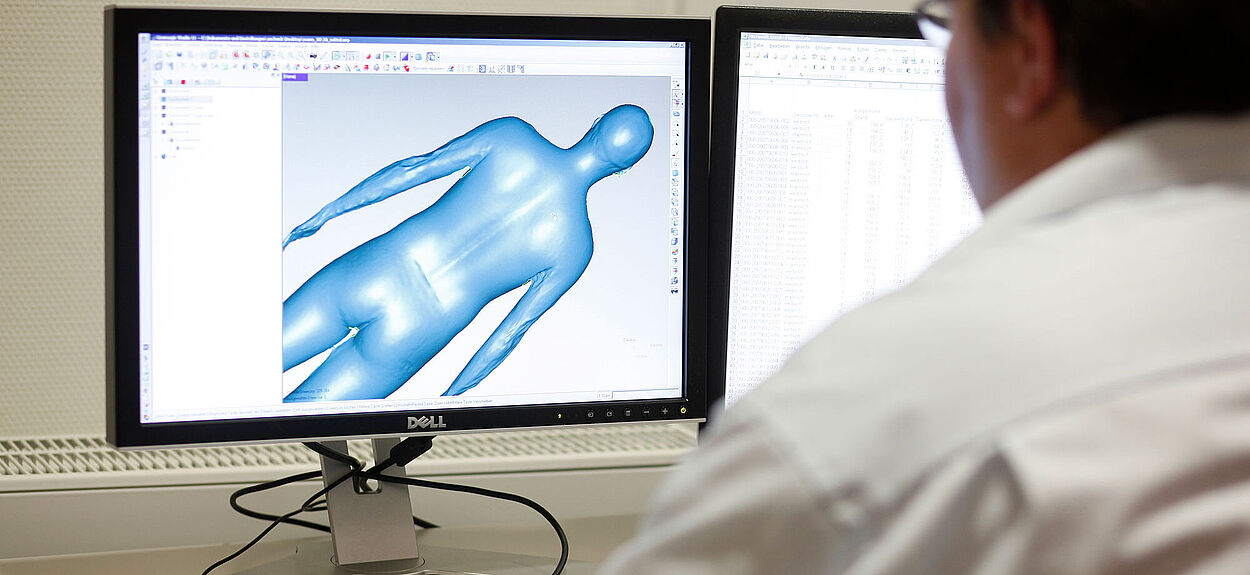 All services and expertise at a glance.
Shaping effects: Testing the forming properties based on 3D body scans
Impact check of sports bras: Testing of the support function of sports bras in motion
3D testing and optimisation of the ergonomic comfort of clothing
Advice on body movement measurements as a basis for fit in motion
Execution of series measurements and measurement studies
Development of customised 3D body, head, foot and hand models
Size concepts for made-to-measure clothing, online, shipping and textile rental
Optimisation and development of customised size tables.
3D simulation of fit