Straight to the point – our expertise in medical face masks.
What type of medical face masks does Hohenstein test?
We test masks for the mouth and nose, which are usually worn by doctors and care staff to protect patients or residents of care homes from pathogens spread by the medical staff.
These face masks, which are also known as "surgical masks" or "oronasal masks", in some cases, can additionally provide protection for medical staff from splashes of potentially contaminated fluids, for example, during surgical procedures.
Medical face masks can also play an important role in the containment of epidemic or pandemic situations by reducing the spread of infections. On the one hand, by offering persons at risk of infection protection from smear infections caused by unknowing contact of their contaminated hands with their nose and mouth. On the other hand, by protecting the environment around infected persons from a droplet contamination caused by pathogens ejected during coughing and sneezing.
Does Hohenstein also test respiratory masks or FFP masks?
Does Hohenstein also test non-medical oronasal masks / community masks?
Yes, Hohenstein offers standard tests for non-medical oronasal masks (community masks) / medical face masks that cover the valid legal requirements.
These masks are explicitly not protective masks. However, we are happy to support manufacturers in checking the functionality of community masks in order to offer consumers the best possible product.

All details​​​​​​​
What are the requirements for medical face masks?
Due to the primary field of application, medical masks must comply with the European Medical Devices Regulation 2017/745 and must meet the requirements for medical products in class 1 and the technical specifications of European standard EN 14683. ­
What must be taken into account after testing medical face masks? How can the test results for masks be advertised?
Due to the COVID-19 pandemic situation, the German Federal Ministry of Health temporarily suspended the requirement for medical face masks to be approved as medical products before being put into circulation.
In the meantime, medical face masks must again be approved and certified as medical products as usual before being put into circulation. The test report on the passed test according to EN 14683 may be used as one of the technical documents required for this. Other comprehensive tests and clinical evaluations are also required for approval.
Hohenstein is a test laboratory in the field of medical face masks / medical products, but not a certification body / notified body for medical products - thus, we cannot carry out the approval and certification for you. For class 1 medical devices, the manufacturer may, on his own responsibility, declare the conformity of his device with the requirements set out in Medical Devices Regulation (EU) 2017/745 and, if all requirements are met, affix a CE marking to his device.
Which services can Hohenstein provide for products used as medical face masks?
With our tests, we support producers in providing their technical documentation as proof of effectiveness (requirement test according to DIN EN 14683) and safety (biocompatibility according to DIN EN 10993-1), which is a requirement for approval as a medical product in accordance with the Medical Device Regulation 2017/745.
However, please also be aware that additional tests and documents are required for final approval as a medical device.
Which tests does Hohenstein carry out for medical face masks?
In accordance with European standard EN 14683, we test face masks for their bacterial filter performance and test the differential pressure as an indicator for breathability.
We also evaluate the microbiological purity of the product (in accordance with ISO 11737-1) and check the skin compatibility of the material used for oronasal masks using the cytotoxicity test (cell-damaging effect as per ISO 10993-5).
With masks that also have a splash resistance, we additionally conduct a penetration test using synthetic blood (in accordance with ISO 22609).
In the case of washable face masks (reusable masks), we determine the functionality by re-testing after carrying out defined reprocessing cycles.
What is the lead time for medical face mask testing?
The lead time for complete testing according to EN 14683 is about 3 - 4 weeks. If necessary, the test time can be extended if the test volume increases.
Do manufacturers receive a certificate as proof that their face masks have successfully passed the laboratory test?
No, at the moment, we can only carry out the above tests and deliver a corresponding test report. We do not offer product certification.
What is the difference between a medical face mask and an FFP mask?
Medical face masks are subject to the Regulation (EU) 2017/745 on Medical Devices and must meet the requirements defined in EN 14683. They primarily protect patients and persons in need of care from possible pathogenic agents spread during treatment by medical/care staff.
In contrast, FFP respiratory masks are subject to Regulation (EU) 2016/425 for Personal Protective Equipment and must meet the specifications of DIN EN 149 and have a CE certification label. In the medical and nursing sectors, FFP masks protect staff from being infected by airborne pathogens spread by patients and those in need of care. There are different protection levels for respiratory masks (FFP 1-3), depending on how well they protect from dust, liquid or solid particles and pathogens.
How well do other, non-medical or community masks supplied to deal with the COVID-19 pandemic and now produced by some manufacturers protect from an infection?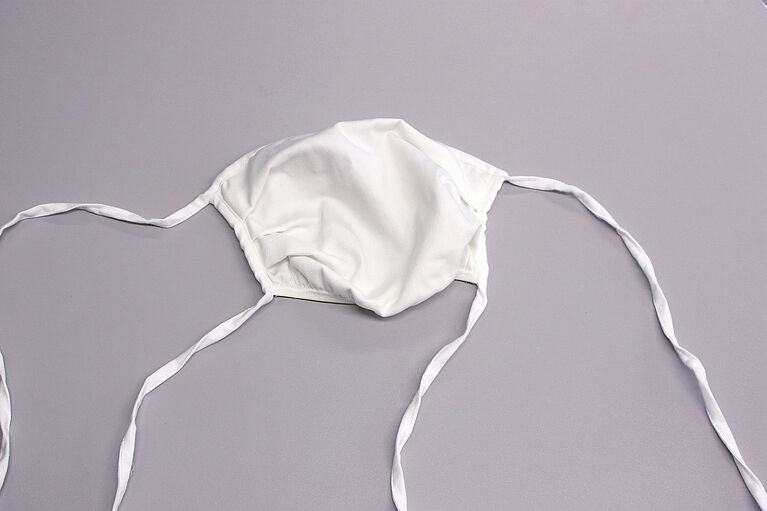 Face masks which neither meet the requirements of the Medical Device Regulation (MDR) nor which are identified as personal protective equipment with the CE mark are simple clothing items without a proven protective function.
Depending on the material from which they are made and whether they are worn correctly, oronasal masks / community masks of this type do demonstrate a certain barrier effect. They can thus provide a certain level of protection from larger droplets from coughing/sneezing persons or from infection due to potentially contaminated hands coming into accidental contact with the face.
However, the key factor with regard to proof of functionality of such community masks is that the performance of the material has been tested in a standardised test procedure by a specialised test laboratory such as Hohenstein.
This applies in particular to products from manufacturers who are switching to the production of face masks because of the current COVID-19 pandemic. But also for individuals who sew oronasal masks / community masks themselves at home. If the material used is too thick and not breathable enough, there is a risk of the wearer collapsing if they do not get enough air. If the material is not thick enough, it has no function.