We precisely and flexibly measure the compression effect of textiles - with HOSYcan.
Long journeys in the car, on the bus, train or in an aeroplane mostly mean sitting for a long time. This can have a fairly negative effect on the legs and in the worst case scenario, lead to travel thrombosis. Support and travel socks should help to prevent this. But the demand for other compression textiles such as bandages for ankles, knees, elbows and wrists is also great. Not only in the area of medicine: Healthy people like athletes like to use them to maintain or improve their performance.
That is why we want to help you with our independent compression tests to credibly prove the compression effect of your materials or products. We measure both the compression effect and the compression path over a defined range.
The compression test is carried out non-destructively with the HOSYcan and always over the entire length of the test object. With this, arm and leg socks, shirts and trousers can be tested up to a length of 100 cm and a circumference of 12 to 150 cm in almost any freely selectable shape. HOSYcan offers versatile evaluation and testing options as well as the determination of the compression effect in motion.
Take advantage of the benefits of our HOSYcan test system and convince your customers of the independently tested quality of your high-grade products.
Of course, in addition to medical products, we also check compression textiles for other applications - e.g. sportswear and shapewear. For clothing, tests on sleeves as well as leg, torso and trouser parts are possible.
Compression effect with Quality Certification Mark.
We at Hohenstein are an authorised testing laboratory of the Gütezeichengemeinschaft Medizinische Kompressionsstrümpfe e.V. (German Certification Association for Medical Compression Hosiery). This organization grants the right to use the Medical Compression Hosiery mark. This RAL Mark is based on testing according to RAL-GZ 387/1 or 387/2 and is a possibility to prove the medical uses of the hosiery. This proof is a prerequisite for the recognition and reimbursement by the statutory health insurance. Similarly, this also applies to bandages for ankles, knees, elbows and wrists. Not only do you receive professional and neutral proof of the compression effect of your products, you also provide additional security for your customers when purchasing your products.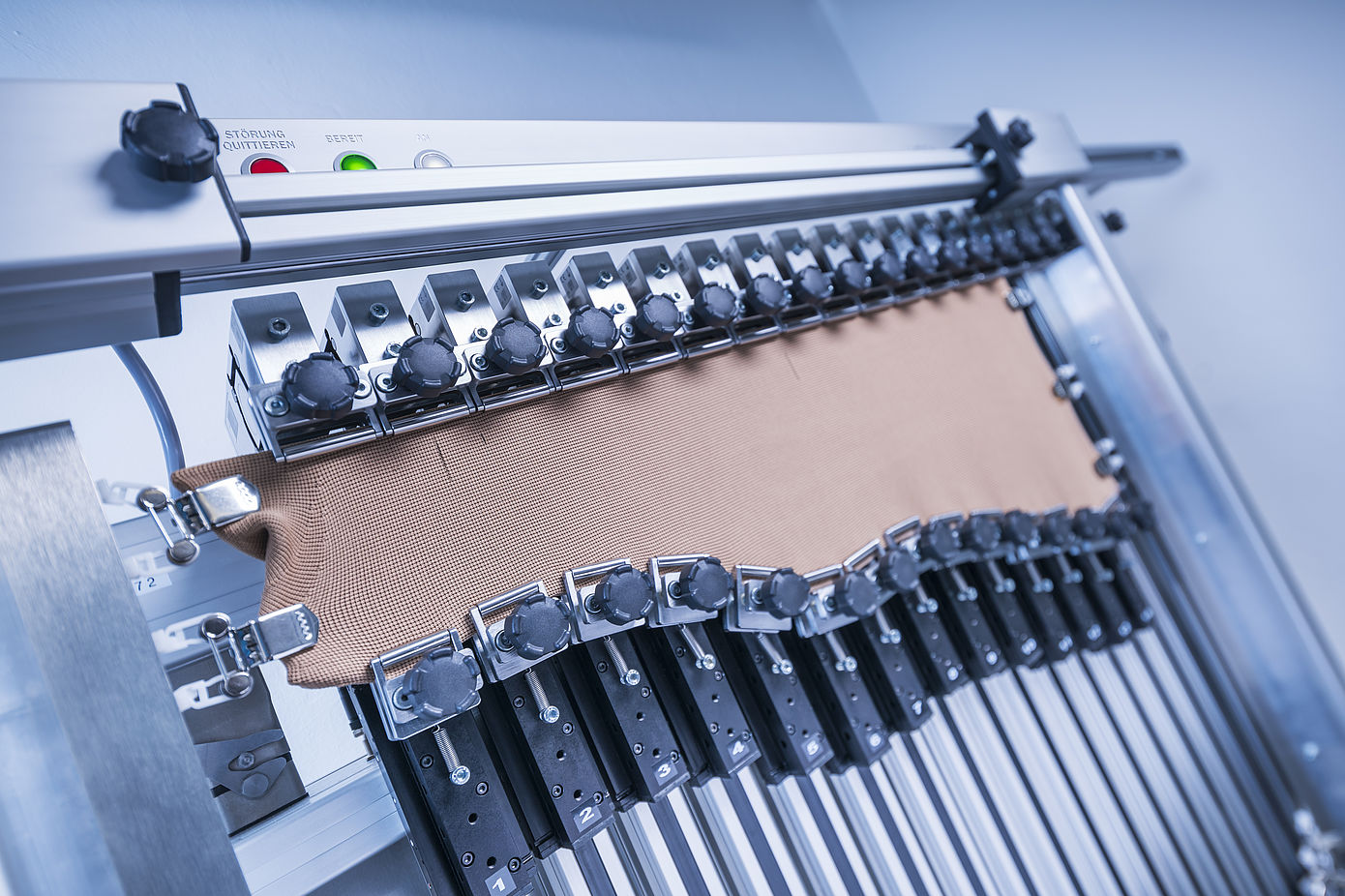 Perfect performance in compression - with our HOSYcan