For human health, solar radiation is essential. For example, the body needs it to form vitamin D, which is important for bone formation. At the same time, the ultraviolet rays contained in sunlight present a great potential for stress and endangerment to the skin.
In recent years, recreational behaviour has changed, which is why dermatologists worldwide have seen a significant increase in skin cancer. In Germany alone, the latest estimates from experts put the number of new skin cancer patients per year at far more than 200,000.
Not least because of the climatic changes in recent years, dermatologists warn against exposing oneself to sunlight for too long. They are calling for prevention especially for children, since their skin is still very thin and has only developed the full protective mechanisms from the age of about 15 years. Clothing and sunscreen textiles are especially suited to this. Another group of people for whom UV textile protection is recommended are those who work a lot outdoors, such as construction workers, road workers or gardeners. They require optimised workwear that protects them as best possible in their outdoor work.
Sun protection to put on instead of rub on.
When it comes to UV protection, textiles are ideal. When using suitable materials and constructions, they offer particularly good protection against excessive solar radiation. Textile products achieve UV protection factors (UPF) that far exceed those of the strongest sun creams or sunblocks.
Since your customers cannot assess how high the UV protection factor of a material is just by looking at and feeling it, standardised measurement procedures and expert testing are required. Based on these studies, you can then award comparable and reliable values for the UV protection of your garments to the customer.
On the one hand, the skin type must be taken into account when choosing the right UV protection factor, as fair-skinned people turn red faster and thus require more protection than people with darker skin. The intensity of the sun plays an important role in this. This is, for example, considerably higher in Australia than in Germany. This means that residents of Australia need a higher level of protection right from the start.
We test according to different standards for you. If your textiles pass our tests, you can label them with a Hohenstein Quality Label.
For the Australia-New Zealand standard (AS/NZS 4399), measurements are carried out on textile materials that are 'as new' and in a dry, unstretched state. The basis is the solar spectrum in Melbourne, Australia, from the 1st of Januar
The measurement according to the European Standard (DIN EN 13758-1) is based on the solar spectrum of Albuquerque in New Mexico, USA - comparable to that in Southern Europe. Here too, we measure new, unstretched and dry textiles.
In the USA, UV tests are often performed according to the American Standard (AATCC TM 183). The solar spectrum imitates that of Albuquerque, New Mexico. The measurement is carried out on textiles that are as new.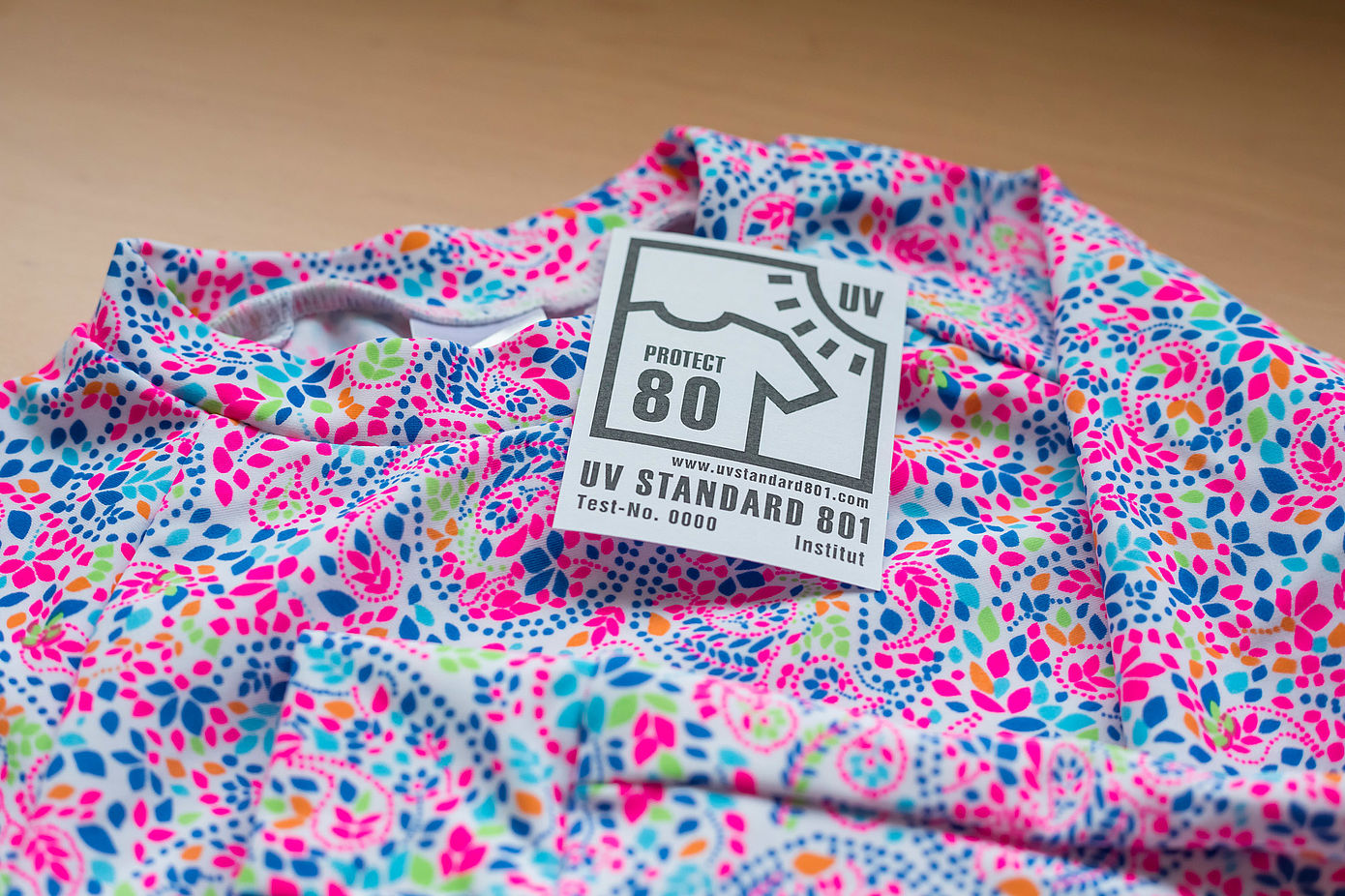 When determined according to UV STANDARD 801, we assume a maximum radiation intensity with the solar spectrum in Melbourne, Australia, on the 1st of January (peak of the Australian summer). In addition, we consider aspects that play an important role in use, such as the stretching of the textile, the wetting of clothing, weathering of shading textiles, ageing processes by certain abrasion and washing cycles and many more. The UV STANDARD 801 test label tells your customers that their textiles have been measured to the strictest standards and offer reliable UPFs.