BÖNNIGHEIM (ivs/cs) With the opening of another laboratory in Shanghai, China, testing service provider Hohenstein is growing its international network. Starting in the first quarter of 2023, the new textile laboratory in the Pudong District industrial park will supplement the Hong Kong laboratory capacity with testing and on-site inspection services in the hot spots of textile production.
The new laboratory will offer suppliers, manufacturers, brands, and retailers a wide range of testing service on textile quality. "Hohenstein stands for innovation and quality. We are very pleased to celebrate another milestone in our international expansion, while following these principles," said Prof. Dr. Stefan Mecheels, who is the third generation to lead the family-run company. "No matter where the examinations, tests and analyses are carried out, all our laboratories work with state-of-the-art equipment and the same high standards."
The laboratory locations in Germany, Hungary, Hong Kong, Bangladesh, India and now Shanghai, offer shortened turnaround and sample transport times. In some locations, Hohenstein offers sample pick up services from the customer to the lab for testing. Mecheels emphasizes, "Hohenstein is also aiming for customer proximity. Our mission is responsiveness and flexibility for our customers."
About Hohenstein
For more than 75 years, Hohenstein has specialized in testing, certification, and research of textile products. As an internationally recognised partner, Hohenstein supports companies along the value chain in successfully bringing products to market - from sharing new research findings to independent testing and certification, to claim support and marketing. Now managed by the third generation, more than 1,000 employees at the headquarters in Boennigheim, Germany, as well as in the laboratories and offices around the world, work on customized testing and services for all unique requirements.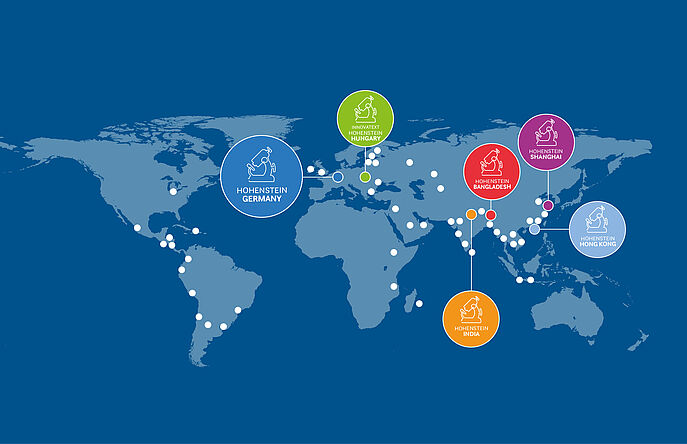 With the opening of another laboratory in Shanghai, China, testing service provider Hohenstein is growing its international network. © Hohenstein