BÖNNIGHEIM (ivs) Textiles without genetic engineering - when it comes to this concern, more and more consumers are turning to organic cotton and are happy to accept higher prices for it. This is because the cultivation of organic cotton requires the renunciation of genetically modified seeds as well as chemical pesticides and fertilisers. Nevertheless, genetic modifications are found time and again in textiles that are actually labelled with the relevant organic labels. The conceivable causes of contamination of organic cotton by genetic modifications are complex and extend along the entire value chain. The textile testing service provider Hohenstein is currently one of five laboratories in Europe that carries out accredited testing of textiles for genetically modified organisms (GMO) in accordance with the ISO/IWA 32:2019 protocol.
The protocol was developed by the International Organisation for Standardisation (ISO) as an International Workshop Agreement (IWA) on the initiative of Global Organic Textile Standard (GOTS), Organic Cotton Accelerator (OCA) and Textile Exchange. The aim is to be able to apply an official, standardised GMO testing protocol for textiles from organic cultivation. According to this, all organic cotton must be free of genetic engineering, whereas conventional cotton permits the use of genetic engineering. In mid-February 2021, the initiators of the ISO/IWA 32:2019 protocol published an overview of the 14 testing laboratories worldwide that are permitted to carry out tests in accordance with the protocol's requirements, including the German testing service provider Hohenstein.
However, the Hohenstein experts have also developed their own molecular biological detection systems in order to be able to test genetically modified cotton at all critical points along the entire value chain - from raw cotton to yarns and fabrics to finished end products. Once we have been able to extract DNA, the screening allows full traceability throughout the textile chain with clear yes/no statements about GMO-free cotton or textiles. As a member institute of the OEKO-TEX® Association, Hohenstein also screens textiles for genetically modified organisms as part of the OEKO-TEX® STANDARD 100 certification. If the requirements are met, the articles can be advertised here with the claims "organic cotton", "biological cotton" or "GMO not detectable".
Manufacturers, brands and retailers, but also certification organisations, benefit from complete analytical evidence all the way to the end product: consumers can be confident that no genetically modified cotton could be detected in the articles they buy. This is because up to now most organic certifications either do not include any obligatory laboratory tests at all or only random sample tests on cotton seeds.
More information:
www.hohenstein.com/gmo-testing­­­­
www.hohenstein.com
Two steps to 100 percent certainty - Hohenstein GMO tests are carried out as follows:
The sample is shredded and the cotton fibres are broken down mechanically and enzymatically. The genetic material (DNA) is isolated from the fibre and purified in a multi-stage process.
A genetic modification exists if specific target sequences (marker genes) are present in the DNA. These can be detected by molecular biology. Control reactions are used to detect unmodified cotton DNA and to exclude false-negative results.
About Hohenstein
Headquartered in Bönnigheim, Germany, with 1,000 employees in its branches and laboratories around the world, Hohenstein has been providing accredited and independent services such as testing, certification, research and development of textile products and training for more than 70 years. Product labels such as the Hohenstein Quality Label or the UV STANDARD 801 support manufacturers and retailers in their marketing activities. As a founding member, Hohenstein is also one of the most important laboratories for testing within the framework of the OEKO-TEX® labels.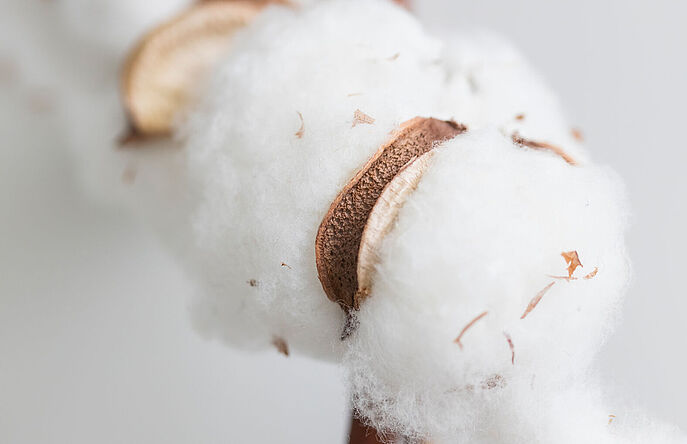 Textiles without genetic engineering - with this concern, more and more consumers are turning to organic cotton and are happy to accept higher prices for it. © Hohenstein