BOENNIGHEIM (ivs) LOWA, one of the leading outdoor shoe specialists, and the testing service provider Hohenstein are entering new territory together: the LOWA model LADY LIGHT GTX has been awarded the OEKO-TEX® LEATHER STANDARD certificate.
"The successful certification is a milestone for us: testing for harmful substances in textiles has long been common practice, but testing for harmful substances in footwear still has a lot of room to grow," notes Ivonne Schramm, Head of OEKO-TEX® at Hohenstein, "Yet they make a lot of sense, because leather shoes are often worn for long periods of time and, unlike textiles, they cannot be washed despite their long service life." This makes it all the more important that shoes made of leather do not contain any harmful substances - especially since they consist of many different components. Each individual component from different production stages, such as tanning or dyeing, represents a possible source of input for harmful substances. Reason enough for LOWA to take action here: "We are very pleased about the certification, which stands for the core values of our brand - highest quality, perfect fit and innovation," says Alexander Nicolai, Managing Director of LOWA Sportschuhe GmbH, "Our customers can expect products of the highest standard from us - in the future, this will also include the reliable safety of a LEATHER STANDARD certification."
The successfully completed pilot project creates a Win-Win situation for everyone: In the future, LOWA plans to have further shoe lines certified by Hohenstein according to the OEKO-TEX® LEATHER STANDARD step by step in the interests of consumer protection. In return, Hohenstein has succeeded in significantly expanding its expertise beyond purely textile concerns by certifying footwear according to the OEKO-TEX® LEATHER STANDARD.
Detailed information about the OEKO-TEX® LEATHER STANDARD specifically for footwear can be found here: www.hohenstein.com/leather-standard-for-footwear
About Hohenstein
For more than 75 years, Hohenstein has specialized in testing, certification and research of textile products. As an internationally recognised partner, Hohenstein supports companies along the value chain in successfully bringing products to market - from sharing new findings from the research to independent testing and certification, to claim support and marketing at the point of sale. Now managed by the third generation, more than 1,000 employees at the headquarters in Boennigheim, Germany, as well as in the laboratories and offices around the world, work on customized testing and services for all unique requirements.
About LOWA
LOWA Sportschuhe GmbH manufactures shoes in the mountain, outdoor and everyday segment. The company is headquartered in the Bavarian town of Jetzendorf near Munich. What began in 1923 with a small production of handmade oatmeal shoes, developed over the years into a company with a global reputation, whose products are now sold in more than 80 countries. The traditional cobbler stands for quality and fit and is one of the leading brands in the field of mountain and outdoor shoes in Germany, Austria and Switzerland. Since 1993, the company has been majority-owned by the Italian group Tecnica.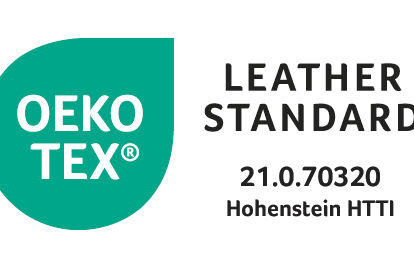 The OEKO-TEX® LEATHER STANDARD certificate for footwear is only issued if all components comply with the required criteria of the LEATHER STANDARD RSL (Restricted Substances List) without exception. © Hohenstein