BÖNNIGHEIM (ivs) The textile service provider Hohenstein has successfully extended its accreditations as a testing laboratory and certification body to include FFP (Filtering Face Pieces) respiratory masks in accordance with DIN EN 149, thus completing its portfolio in the textile mask sector. The necessary functional and safety tests on community masks, medical masks and FFP respiratory masks contribute to consumer safety.
Filtering Face Pieces are primarily used for the self-protection of the wearer and are intended to protect from harmful aerosols, particles and droplets. There are different protection levels for FFP respiratory masks (FFP 1-3), depending on how well they retain liquid and solid particles. In occupational safety, they are part of personal protective equipment (PPE) and fall under category III. Their protective function is specified throughout Europe by the DIN EN 149:2009-08 standard, which requires laboratory tests and practical performance tests with test persons. The Hohenstein testing laboratory carries out reliable proof of the safety of FFP respiratory masks in several test steps:
Through visual inspection, the Hohenstein experts assess the correct labelling, the comprehensibility of the enclosed instructions for using the masks, as well as the functionality and packaging.
Laboratory tests can determine, among other things, breathing resistance, filter medium transmittance and inward leakage. The practical performance of FFP respiratory masks is assessed through realistic tests with test persons.
Test persons can also be employed to assess other parameters such as skin tolerance, field of vision or headgear comfort.
Optional tests, such as testing FFP respiratory masks for harmful substances, complete the safety verification.
Since the beginning of the pandemic, a particularly large number of FFP respiratory masks with doubtful and even false labelling have been in circulation, so reliable and neutral testing and certification of these products is essential. Hohenstein, with its many years of extensive experience in the testing and certification of personal protective equipment, thus offers the ideal service for customers who value testing quality "Made in Germany".
As a testing laboratory for medical devices, Hohenstein also offers testing of medical face masks for their bacterial filtering performance, differential pressure as an indicator of breathing activity, microbiological purity and cytotoxicity, among others. Medical face masks fall under the Medical Devices Regulation 2017/745 and fulfil the requirements according to EN 14683. The testing service provider Hohenstein has already taken a big step towards safety and functionality with the introduction of its quality label for Tested Community Masks in June 2020 and also tests according to the first European Guideline for Everyday Masks, the CEN Workshop Agreement (CWA) 17553:2020.
Detailed information can be found at www.hohenstein.com/ffp-masks

About Hohenstein
Headquartered in Bönnigheim, Germany, Hohenstein has been providing accredited and independent services such as testing, certification, research and development of textile products and training for 75 years. It currently employs around 1,000 employees at subsidiaries and laboratories around the world. Product labels such as the Hohenstein Quality Label or the UV STANDARD 801 provide manufacturers and retailers with important support in their marketing. As a founding member of the OEKO-TEX® Association, Hohenstein is also a leading laboratory for testing textiles and leather for harmful substances and sustainable production.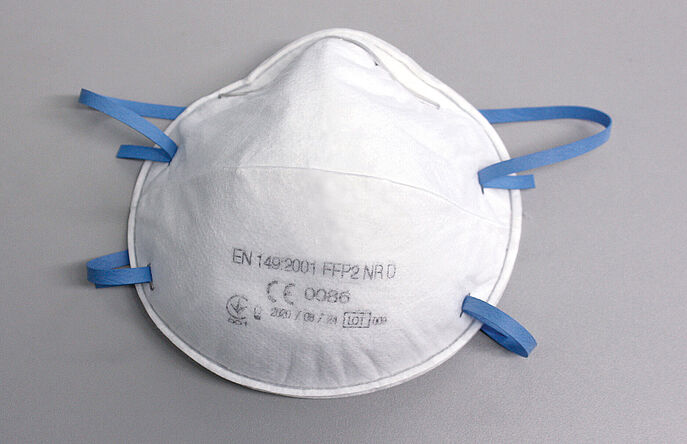 The textile service provider Hohenstein has successfully extended its accreditations as a testing laboratory and certification body to include FFP respiratory masks in accordance with DIN EN 149. © Hohenstein